Client Appreciation Truck
Pickup Truck Usage Program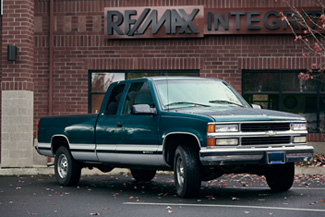 Having been a full time Realtor for over 40 years now I have accumulated a large base of clients who always impress me with their loyalty. So many of you have been back time after time it is just like going to a class reunion and meeting with old friends. And many more of you have sent me referrals of friends, family and neighbors that it always makes me glad that I love what I do!
In response to that I am always trying to think of new ways to let you know how much I appreciate these years of valued relationships. My newest attempt is to provide a great "work-horse" truck to help you with any of your hauling needs. Whether you are in the middle of a landscaping project, need to move some "stuff" into storage or to the Goodwill, pick up that new big screen TV at Costco or any range of projects, this truck is here for your use for FREE. All you need to do is fill out the forms, replace the gas you use and leave it ready for the next user. No fees, no strings, no complications! Just come and get it
Elsewhere on this page are the details on how to reserve and use the truck and also the printable forms that need to be filled out and signed. Give me a date so I can put you on the reservation calendar and you are set to go!

Fred Adams
Things To Know About Using The Truck
When you come to pick up the truck you will need:
The driver's license for the person(s) who will drive the truck (non expired)
A copy of each persons' insurance card showing that their policy is current
What you will have to do when you come to pick up the truck:
You will sign a use agreement stating your responsibility and how things work
You will receive copies of everything which you have signed plus a set of keys
You will fill out the odometer readings
The rules for using the truck:
No one under 21 drives the truck
Only the person(s) who signed the use agreement can drive the truck
No drinking and driving. No smoking in the truck
For use in Linn, Benton and Polk counties only without prior approval from Fred Adams
What to do when you return the truck:
Park the truck at Remax Integrity 2175 NW Professional Dr. near where you picked it up
If anything has been lost or damaged call Fred Adams at 541-760-3099
Please leave gas tank full or at least as full as it was when you picked it up
Please make sure the bed of the truck and cab are cleaned out and ready for next user
Please lock both doors
Bring the keys to the office. If the office is closed please put keys in an envelope with Fred Adams labeled on it through the slot in the door. Please include the agreement with the new odometer reading on it.