Client Reviews
See what some of my clients have to say...
"Fred Adams is tops in our book. Patient, pleasant, willing to give the extra service. Hurrah for Fred!"
We would like to thank you for everything that you did to help us find the perfect house; we couldn't be happier. Your honesty, good advice and dedication made a potentially difficult and stressful process easy and enjoyable.
READ MORE Client Reviews
Client Appreciation Truck
Pickup Truck Usage Program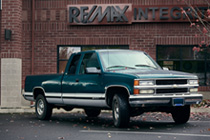 My newest attempt is to provide a great "work-horse" truck to help you with any of your hauling needs. Whether you are in the middle of a landscaping project, need to move some "stuff" into storage or to the Goodwill, pick up that new big screen TV at Costco or any range of projects, this truck is here for your use for FREE.
More Information About This New Service